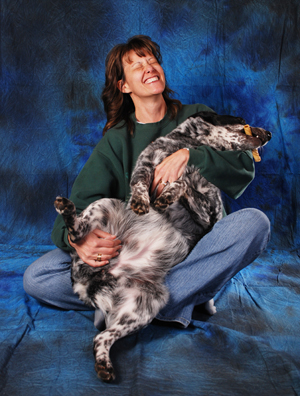 Lisa Bedenbaugh, PT, CCRP
Lisa brings extensive physical therapy experience to CRS. A 1988 graduate of Daemen College with a B.S. in Physical Therapy, Lisa today has 30 years of experience in the field. She has worked in multiple clinical settings, including orthopedics, neurology, home health and acute care. In 2003, she earned accreditation as a Certified Canine Rehabilitation Practitioner (CCRP) from the University of Tennessee, and began practicing small animal physical rehabilitation. Since that time, she has transitioned primarily to the animal rehabilitation field. Lisa is the Georgia state liaison for the American Physical Therapy Association's (APTA) Animal Rehabilitation special interest group, and is co-author of an independent study course on evaluation of the canine rehabilitation patient for them. As well as hosting fitness and conditioning workshops, Lisa has spoken both locally and internationally on topics in canine rehabilitation. She is currently Director of Rehabilitation at North Georgia Veterinary Specialist, a multi-disciplinary referral practice in Buford, GA.
Thai Bodywork
Explore different techniques, including rhythmic rocking, dynamic stretch and joint mobilization. We will interchange roles, allowing for a deepened sense of awareness as we move through this subtle yet powerful work together.
Hammock Flexibility
This workshop will consist of warming the body up, flexibility training using restorative postures, and end in fully embodied restorative spaces. Increase mobility and flexibility across beginners and advanced teachers.
Kickstart your rehab business with Lisa